Advantage
The bearing power of the glass has been increased. The height of corrugated aluminum strip has been increased from 1.8mm to 4.8mm, and therefore the compressive resistance has been strengthened. Together with the application of high-polymer materials, the problem of insulated glass deformation under pressure has been significantly reduced.
Moisture-absorption performance has been greatly enhanced through the use of the 3A molecular sieve.

Tensile strength has been enhanced. The framework of the traditional strip was a single aluminum strip, but the framework of Chnspacer is comprised of aluminum strips, plastic insulation strips and aluminum sheets, thus facilitating a dramatic increase in tensile strength.

Vacuumpacked with aluminum foil, with indicator card is available inside. The products are packed with composite vacuum foil in four layers, and the indicator card shows the moisture-absorption performance.

The application of a special process stabilizes the strip performance so that it isn't affected by temperature variations.



Outline diagram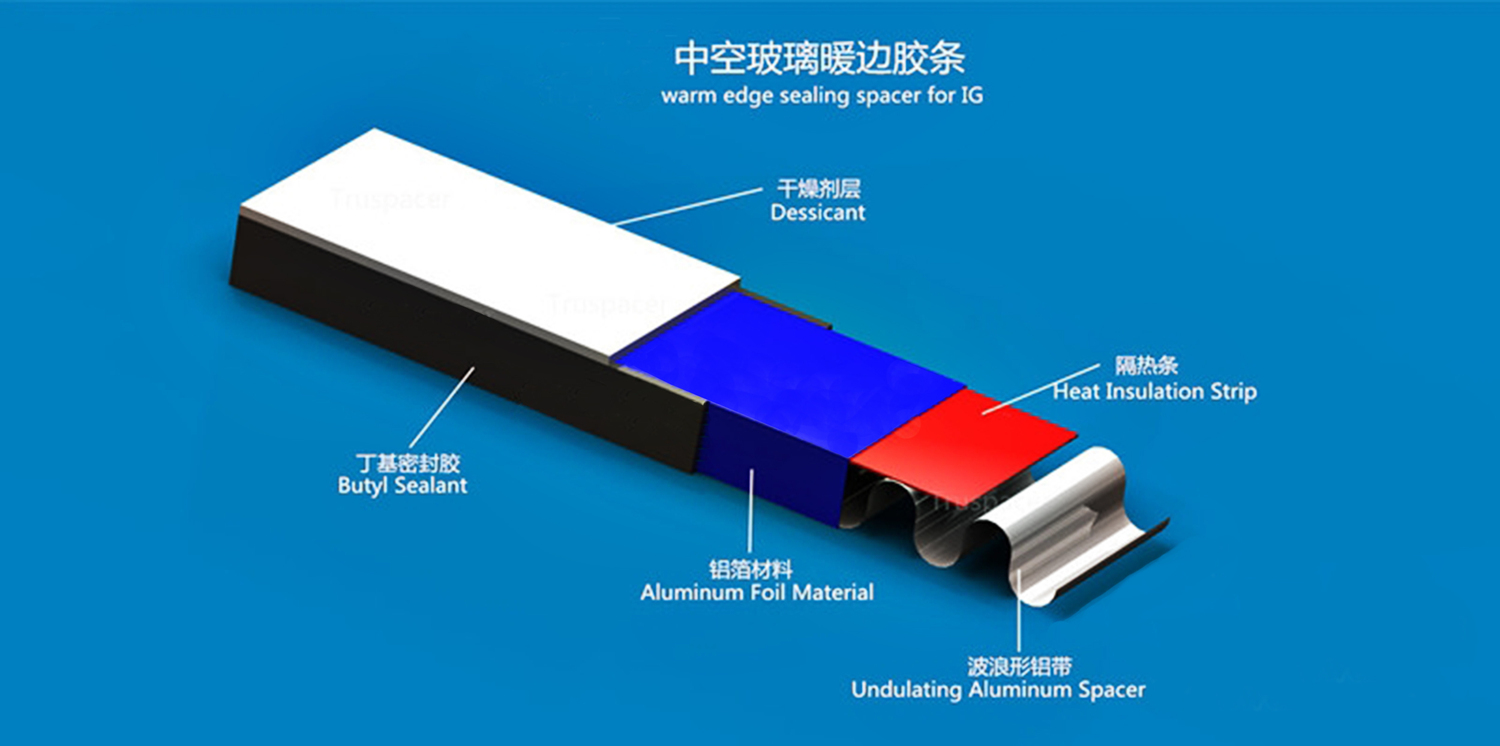 Raw material options
No.

Mateial name

Material

Producing area

Composition

Technical

1

Inner sealant

Butyl rubber

China

Butyl sealant,Calcium powder,Polyisobutylene

Q/PHX001-2014

2

External sealant

Polymer adhesive

Germany

BASF polyisobutylene,butly sealant,Calcium

GB/T 19187-2003

3

Dr

y desiccant

3003 aluminum alloy

China

AL-Mn

GB/T 3190-1996 EN AW-3003/AlMn1Cu EN 573-3-194

4

Aluminuum foil film

Aluminum foil film

China

Aluminum foil membrane

GB/T 28118-2011

5

Molecular sieve

3A molecular sieve

China

2/3K2O.1/3Na2O.Al2O3.2SiO2.9/2H2O

GB/T 10504-2017

6

Heat-insulating film

Pvc

Chian

Pvc

GB383083
Colour
Gold,Silver,Black
Specification sand technical parameters
Size

Width(mm)

Thickness(mm)

m/carton

weight/carton

Carton

B±

A±

m±

kg±

Big carton

6

8.0±0.1

6.5±0.1

800±0.5

60.50±1.5

7

9.0±0.1

6.5±0.1

760±0.5

62.10±1.5

Carton size

L*W*H:570*470*570

8

10.0±0.1

6.5±0.1

660±0.5

58.20±1.5

20'GP container

144 carton with pallet

9

11.0±0.1

6.5±0.1

610±0.5

58.00±1.5

Size of roll

?535*465

10

12.0±0.1

6.7±0.1

580±0.5

58.70±1.5

Center diameter

?37

11

13.0±0.1

6.7±0.1

550±0.5

59.00±1.5

Small carton

12

14.0±0.1

6.7±0.1

510±0.5

59.20±1.5

13

15.0±0.1

7.0±0.1

480±0.5

58.80±1.5

Carton size

L*W*H:470*460*470

14

16.0±0.1

7.0±0.1

430±0.5

59.50±1.5

20'GP container

170 carton with pallet

15

17.0±0.1

7.0±0.1

400±0.5

58.40±1.5

Size of roll

?465*465

16

18.0±0.1

7.0±0.1

370±0.5

58.90±1.5

Center diameter

?37

Special size can be customized,MOQ 20 thousands meters.
Standard

Use
Manufacturing building doors and windows,Train,Bus,insulating glass,insulating door, shutter,Refrigeration equipment and soon.
Using method and attention
All the glass should be dry and clean.The insulating glass should be made by the following steps.
1.Putting the spacer on to the corner of one glass,then making thes pacer straight,at the same time keeping the spacer around the surface of the glass,at the end,reserved 2.5mm-3.0mm to the edge of the glass and the spacer should be reserved about 20mm more joint the pact pressing the joint,making no space in the circle.3.0mm to the edge of the glass and the spacer should be reserved about 20mm more joint the pact pressing the joint,making no space in the circle.
2.Then putting another glass onto the one which has the spacer above,making sure the two pieces of glass are mutual alignment in both vertical and horizonal.
3.Putting them into the hot press machine with the temperature between 110-140℃ inside and 50~60℃ the outlet.
4.According to the structure requirement of the insulating glass,two component silicone sealant could be putting outside of the spacer.Then a piece of insulating glasss hould come out.
5.The butyl spacer must be carrie dout in accordance with this attention other wise may cause the seal leakage.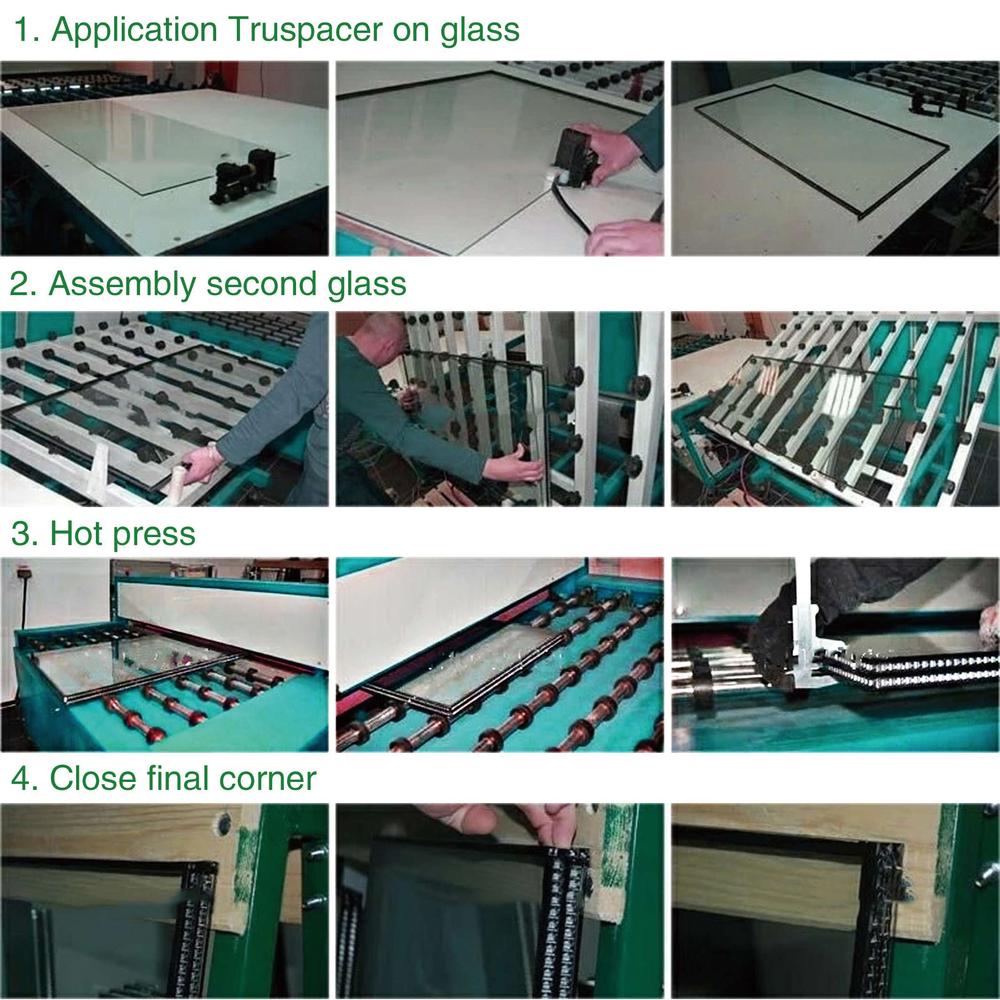 Packaging
Vacuum,Roll then packed in Carton 12cartons/pallet(big) 20cartons/pallet(small) 144bog cartons in 20' container.176 small cartons in 20' container.
Service support
1.24 hours technical supporting by e-mails.
2.24 hours calling service & online service.
3.Oversea door-to-door service available.
4.User manual and detailed operating video/CD available.
Quality assurance
Stroage period:
Cacuum sealed for 3 years,made into insulating glass according to the operation manual,warranty for 10 years.